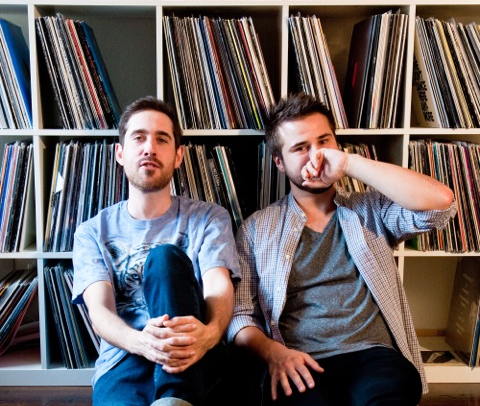 Since 2010 Fare Soldi are a household name for everyone who loves modern disco stuff. Their obsession about looking for the perfect groove let their remixes (for Duck Sauce, Beyoncé, Congorock, Toro Y Moi among others) rise to reach dancefloors all around the world, released on quality labels like Southern Fried, Ministry of Sound, Kitsuné. We caught up with the Italian duo to find out more about how they use Reason and ReCycle in their music making.
Could you tell us a little bit about how you use Reason and ReCycle when making your tracks?
Usually we start with browsing samples in our library, then, using ReCycle, we find the peaks in the wav file, and chop it as we please: it might be a drum, or a bass, a voice, even some keys, anything. A little work on the right knobs, and the chops are ready to be played on Reason on a lovely blue Octo Rex.
Then starts the fun part: getting inspired by little samples and starting playing them on a keyboard can take you anywhere, so focusing on pitch, rhythm, and beat, can often bring up a new groove and of course the proper bpm of the track. So now the puzzle has started, and we just need to finish it with the proper pieces: a bass (whether a real one, a sample, or a Thor patch), drums, and all the magic up above like vocals, pads, amusement park sounds, whatever.
Your sound incorporates a lot of sampling, where do you hunt for samples?
Most of the ideas comes from weird vinyls we have been collecting throughout the years, visiting flea markets all around the world; of course we know how to spot symptoms of good samples, certain labels, years, producers, world areas, but mostly, it is about mustaches, so the more on the cover, the better.
Sampling for us is not just taking "a sound" but is rather a matter of being inspired by the vibe in it, which comes from a sum of details like who's playing, what is playing and last but not least some analog quality mixer, compressor and FX.
Do you have any production trick that you always use?
Often we use 2 audio splitters on the kick signal, (taken from the Redrum separate exit in the back) to feed every compressor in the rack and fine tune some different levels of side chain for every audio element in the track. We use also a lot of layering in the samples, duplicating Octo Rex and playing different pitches at the same time, but with different balance, EQ, compression and side chain of course.
What do you do when writer's block strikes?
To get the wheels back in motion we usually try to start with something very weird, or very far from our usual musical routes, and start playing with it without thinking about following steps like arrangement, mixing, automations etc. Oh and a lot of moka coffee, of course.
Any words of wisdom for aspiring producers and musicians?
Listen to as much music as you can, all genres, all eras, everything can bring inspiration. Work on your own style and peculiarities, at the and of the day is all that matters.
https://soundcloud.com/faresoldi/back-in-businness