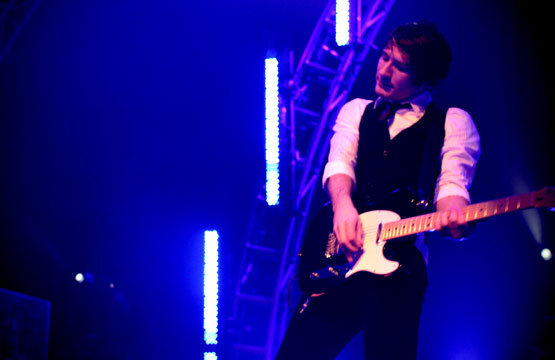 As musicians, we all start from humble beginnings. In fact, many people begin by making beats in mom's basement but few of us ever went directly from mom's basement to the #1 spot on iTunes, deafening internet chatter, and a sold out US concert tour. However for Adam Young, better known to everyone as "Owl City," that dream has truly become a reality in the last two years.
Adam is a Music 2.0 success story. While working each day at a factory warehouse, he was busy leveraging social media sites like MySpace to distribute music direct to fans and hone his song-writing/production skill by getting instant feedback from listeners. Each day, Adam would rush home from the warehouse and sit down to capture whatever melody he had been kicking around all day. When Adam sat down to create music, he launched Reason.
We recently spoke with Adam about Reason during his US Concert tour when he stopped by the legendary Fillmore club in San Francisco, CA.
You got started with a pretty modest studio. Can you tell us a little about how you wrote and recorded the tracks that became your breakout hits?
I ran Reason 3 and a freeware single channel recording program called Goldwave on an old Dell with 255 RAM. I used a friend's borrowed Behringer C-1 condenser microphone and an 8 channel analog mixer to record vocals and a bit of acoustic guitar in Goldwave. I then cut them up into samples and fired them off in [Reason's] NN-XT.
The music software landscape is a crowded place with many choices, what caused you to adopt Reason as your production environment?
I bought a copy merely to mess around and have fun with, and I remember making song after song and not being able to stop. There's always something new to try, some other way of routing something, etc. It's almost like a video game with endless "replay" value. I love it.
Since then, you have seen a fair share of buzz around your music. Has your workflow changed a lot between your first track and "Ocean Eyes?"
I'm still doing everything in my basement, but things are a bit more productive and easier. Since those good old days, I've upgraded to Pro Tools HD run on a quad-core Mac Pro to handle all third-party recording and Rewire Reason 4 into my sessions. I absolutely love sequencing in Reason and I wouldn't use anything else. Especially drum programming.
I really love Redrum and I prefer it for sequencing drums and single samples over anything else I've tried. It's easy, it's fast, and it does what I need it to do. It's great.
When it comes to creativity, how does a new song usually start for you in Reason? Do you have a song starter template? What do you feel is the biggest challenge with making music with technology today?
I always start with a blank slate. I think it's important to build a song from scratch, even down to the session file. I start with a melody, a synth line or a piano loop and build the rest of the sound around it. People in the room with me tend to rip out massive handfuls of hair because I listen to the same thing looped relentlessly to make sure I like where it's going.
What do you feel is the biggest challenge with making music with technology today?
For me, it's CPU power. So much of what I do uses processor and instrument plug-ins along with 80+ track Reason sessions. I always have the system usage window open whenever I'm working so I can keep an eye on what's going on.
So you're definitely a candidate for Record's multi-processor power, right?
I haven't had that much time to experiment in Record as of yet, but it seems absolutely incredible. The sort of thing I would've died for back when I was working in Goldwave. I'm really excited to work more with it.
You've spent the better part of this past year touring. How does Reason factor into your live shows and life on the road?
We have two laptops that run tracks, a master and a redundant backup linked together with a switcher sending signal from one to the other so that if the master goes down, or someone yanks the usb cable out from the interface, the audio switches over without a hiccup. We run drum stems from the laptops, the rest we create live with a slew of different synths. There's also guitar, violin, cello, percussion, vibes, bells, acoustic.
I also have Reason 4 on my laptop and I spend a lot of time demoing ideas on the tour bus.
As your success has grown exponentially, you've probably had the access and opportunity to use virtually any music technology or software available.  What is it about Reason/Record that has led you to stick with them as some of your main tools in the studio and on stage?
I think it's because both are so user friendly. You don't have to be a scientist to figure out what you want, nor to get the results you're happy with.
If you were to look back 5 years ago, you probably couldn't have predicted the level of success you're having today but can you look down the road 5 years and give us your predictions for Owl City, music technology, and the industry as a whole?
I honestly prefer to take things a day at a time, but I can confidently say that I couldn't be more excited about what lies ahead, not just for Owl City, but for myself: just a passionate artist doing what he does.