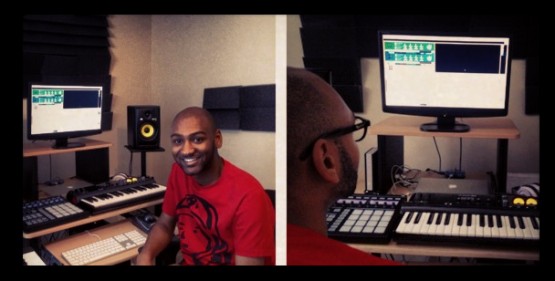 Hilton "Deuce" Wright II, is a record producer and songwriter from Detroit, MI. Along with his cousin B. Wright, the duo known as WrighTrax created music for some of today's top urban pop artists including: Big Sean, Mike Posner, Lil Twist, Drake, Rick Ross, and many more. Currently based in LA, Deuce is working on new projects for Lupe Fiasco, Elzhi (Slum Village), Gilbere Forte, and Mike Posner. An avid Reason user, we sat down with Deuce to talk music making.
Can you tell us a bit about how it works making music and producing for other artists?
Every situation is different. Most times I'm in the studio with the artists and sometimes I'll work on music with a couple co-writers and send it to the artists or one of their representatives. I've cultivated tons of relationships over the years and continue to do so. Relationships are everything and create the opportunities to work with the artists.
How do you use Reason in your music making?
Reason is where it all starts for me. I've built a custom default song template along with numerous favorites list that have my most common used & needed sounds that are easy for me to access. I'll usually start with a chord progression, drums in Kong, and/or a Dr. OctoRex loop.
What's the best music making tip you ever got?
"Make something!" I actually heard that in a Props YouTube video! It's so true though, even if it's terrible, just the process of making music is good for your habit development. Also: stay objective! Detach yourself from the music and be able to critique it without your emotions getting in the way.
What do you do when writer's block strikes?
I listen to & study other pieces of music that are similar to what I'm trying to make. I'll usually have three references that I'm referring to sonically, musically, and production wise. They can be used as a starting point or as a creative boost when I get stuck.
What has been the best moment in your music making career thus far?
I think the best moment for me thus far has been to watch/listen to music I made in my dorm room, bedroom, and basement get played on national television/radio, and be available in stores worldwide. To watch an idea grow to that level is truly awesome.
Any words of wisdom for aspiring producers and musicians?
As cliche as it sounds, DON'T GIVE UP! The only people that don't succeed are those that quit before their time. It's never too late.

To get you inspired, Deuce created some patches for use in your tracks. Download the archive, check out the demo song and then make some music!
Please note: The patch MeeKeys and the demo track requires the Radical Piano and Pulsar Rack Extensions.