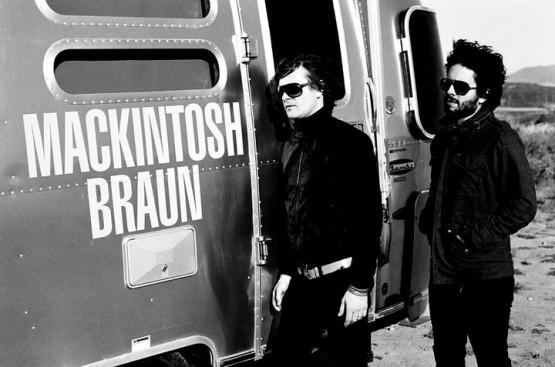 Mackintosh Braun is a formidable indie electronic duo from Portland who blend crisp, sophisticated production with sharp, emotive songwriting. They find themselves drawn to the technical side of music: sampling, sequencing, and high-end production. We had a chat to find out more about their use of Reason and their upcoming releases.
You use Reason live quite a bit, how does your set up look on stage?
Our live set up is ever changing, but at the moment our keyboard player uses Reason 7 for all of his sounds for the live show. We use the Malström a ton for synth sounds because we love how versatile it is since we're usually creating patches from scratch. We also love to put the Scream4 on almost anything, crunchy is good!
Right now you're gearing up to release new material, incorporating a lot of old analog gear. How do you incorporate this with Reason?
We did make a pretty big shift on this new record. We went from using mainly digital instruments on previous recordings, to using very few this time around. A lot of that had to do with the feeling we were aiming for with this album and the warmth and nostalgia you get from using analog gear. Also working with producer Lars Stalfors (Cold War Kids, Mars Volta) on this album helped us shape our sound into something different, yet still very reminiscent. He heard the demos and said he really wanted to take this album in a analog direction, we loved the idea of that, and it turned out to be something that we both fell in love with.
Reason still makes it's way into some songs on the new album though, sometimes we'd create a sound in Reason that was so great, why try and top it? Reason synths still have a very warm and lovely tone to them, so they fit really nicely on this album among the mostly analog components.
You have had your music in Greys Anatomy among other things, how did that happen?
Our lovely label Chop Shop Records is mainly to thank for the placements we've received thus far. Alex Patsavas who owns the label and runs the music supervision side of things, has a truly impeccable ear for not only good music, but good music that fits particular shows and the scenes within them. Also, her crew that work beside her (Kasey, Brittany, Ginger, and Justin) are just as amazing. We also love John Rubeli, the president of Chop Shop Records, he's believed in our music from the start and has always fought for us. We have a great team behind us, it's a really nice feeling.
What do you do when writer's block strikes?
Oh man… the dreaded writers block can be a tough one. I think for us, the less critical we are with our own writing, the more freeing it is. Sometimes you judge yourself at such a high level that it closes you off to things that might really be great. If you can finish a song, without critiquing yourself at every turn, then that writers block usually starts to fade and creative freedom can blossom.
Any words of wisdom for aspiring producers and musicians?
It's a cliché said time and time again, but stay true to who you are as an artist. If you do that and believe in what you're doing, other people will take notice and gravitate in your direction. There's enough room in this world for all types of creative minds, so don't try and be like anyone but yourself.
https://soundcloud.com/mackintoshbraun/never-give-in