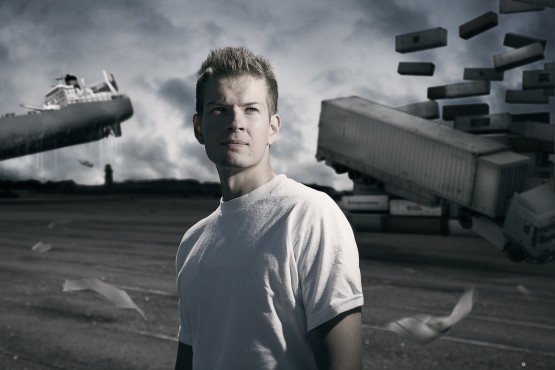 How do you use Reason in your music making?
I use Reason to design different kinds of synthesizer sounds from the ground up which is really exciting due to the modular nature of Reason's devices. I start off with a set of blank combinators and just connect cables to my hearts content which usually ends up in a huge mess of cables all contributing to a wonderful wall of sound.
The common scenario is that I Rewire Reason to any other DAW I may be working on at the time and just use the combinator controls to automate the sounds of my combinator devices. Reason is a very visual software which is something I like very much and it lets the user go deeper in to programming devices than many other major DAWs and its just a breeze to come up with new sounds.
What's the best music making tip you ever got?
I guess the best tip I ever got was to think of a tune as a combination of two or three main elements. That simplification has really helped me creatively to concentrate on the elements that matter. As a producer the risk of losing sight of the bigger picture is always apparent as the tools we use are so intricate and provide so many options. That's not so much of a problem when you're producing for someone else and they are in charge of the artistic decisions but as an artist I'm solely responsible for the overall vibe of the music I create.
Do you have any favorite sound or patch?
In broad terms I do have favorite timbres that I prefer over others but they are more like personal preferences of how a certain instrument should sound in a particular context. I rarely have a specific patch in mind when I'm writing and in broad terms I'm just trying to select the right vibe for the track by listening to the sounds in my head.
What do you do when writer's block strikes?
The frustrating part about a writers block is that they are hard to notice sometimes. I might be working on a tune for a week and then realize nothing I've done makes any sense. What I usually do is throw the garbage out and start from scratch. Sounds painful but its actually very relieving.
What has been the best moment in your music making career thus far?
I don't have a specific life defining moment in mind but in general terms the greatest part about pursuing creativity is the small moments of gratification that happen after you've created something meaningful. Its that childish excitement that I'm looking for.
Any Words of Wisdom for aspiring producers and musicians?
Work hard, play hard but don't take yourself too seriously and meet some real people every once in a while!